In its mission to carry out the vision of "cultivating people" of Her Royal Highness Princess Srinagarindra, the Princess Mother, Mae Fah Luang Foundation under Royal Patronage opened the Mae Fah Luang Art and Cultural Park, the center of centuries old Lanna art and culture, as the venue for and Art and Craft Market. This market aimed to draw those who enjoy all facets of Lanna arts and crafts, with stalls offering handicrafts and art-related activities presented by students of various educational institutes and communities on Doi Tung. Apart from arts and craft products, there were also a variety of local delicacies to complete the picture of Lanna art and culture. The event aimed to encourage community participation and create value added to folk culture all the way to national treasures. The Art and Craft Market took place from Friday 7 February to Sunday 9 February 2020, from 4-9pm at the Mae Fah Luang Art and Cultural Park, Chiang Rai Province.
Khunying Puangroi Diskul na Ayudhya, director of Mae Fah Luang Foundation under Royal Patronage, presided at the opening of the event, which was attended by several renowned local art celebrities such as National Artist Chalermchai Kositpipat, Doi Din Daeng's ceramic artist Somlak Pantibun, and Assoc Prof Dr Chaiyosh Isavorapant​ of Silpakorn University. They participated in a seminar under the title "Perspectives on Realizing the Potential of Chiang Rai as an Art City", aimed at motivating the younger generation to perpetuate their artistic and cultural heritage, and reminding local people that
"The myriad that the Princess Mother carried out for them, especially related to forests, people, vocations, and the conservation of local arts and crafts, should continue to be realized by everyone without losing heart. If we all do our part, Chiang Rai can definitely become an art city"
Also present were members of the local government and business community including Chiang Rai deputy governor Phasadate  Hongladarom, Phayao mayor Chulasinee  Rojanakulkumjorn, and management of Mae Fah Luang Foundation. The opening ceremony featured a Puja Drum Dance, a Lanna floral dance parade and other colorful performances by well known artists, ethnic hill tribe villagers from Ban Khayang Pattana, Ban Huai Nam Khun, Ban Cha Lo, Ban Pa Sang Na Ngern, as well as young performers from local educational institutes such as Chiang Rai Rajabhat University, Chiang Rai Vocational College, Mae Fah Luang University and Suksa Songkro Mae Chan School. Performances included Lua Rerng Phrai [Lua Jungle Joy], folk songs, Himavanta Ranchuan [Yearning for Himavanta] and Wai Sa Mae Fah Luang. There were demonstration workshops such as ceramic sculpting and painting, key chain roping, tray garden design, bag making by Doi Tung Development Project, silverware workshops, carving and Lanna craft workshops, a visual arts exhibition by students of Chiang Rai educational institutes, as well as ethnic food stalls with a variety of delicious menus such as Spicy Ma La, Mee Krob Song Khreung with a touch of som sa for a refreshing tang and avocado juice, to name but a few.
There were also various activities reflecting both traditional and contemporary Lanna arts and culture, as well as an exhibition on "Somdet Ya" the Princess Mother, founder of the Thai Hill Crafts Foundation under the Royal Patronage of Her Royal Highness Princess Srinagarindra the Princess Mother, which is now known as Mae Fah Luang Foundation under Royal Patronage. Her Royal Highness also established the Mae Fah Luang Art and Cultural Park where old wooden Lanna artifacts are collected and housed to safeguard them for future generations. A number of these artifacts were also put on display for visitors to enjoy and photograph. They included: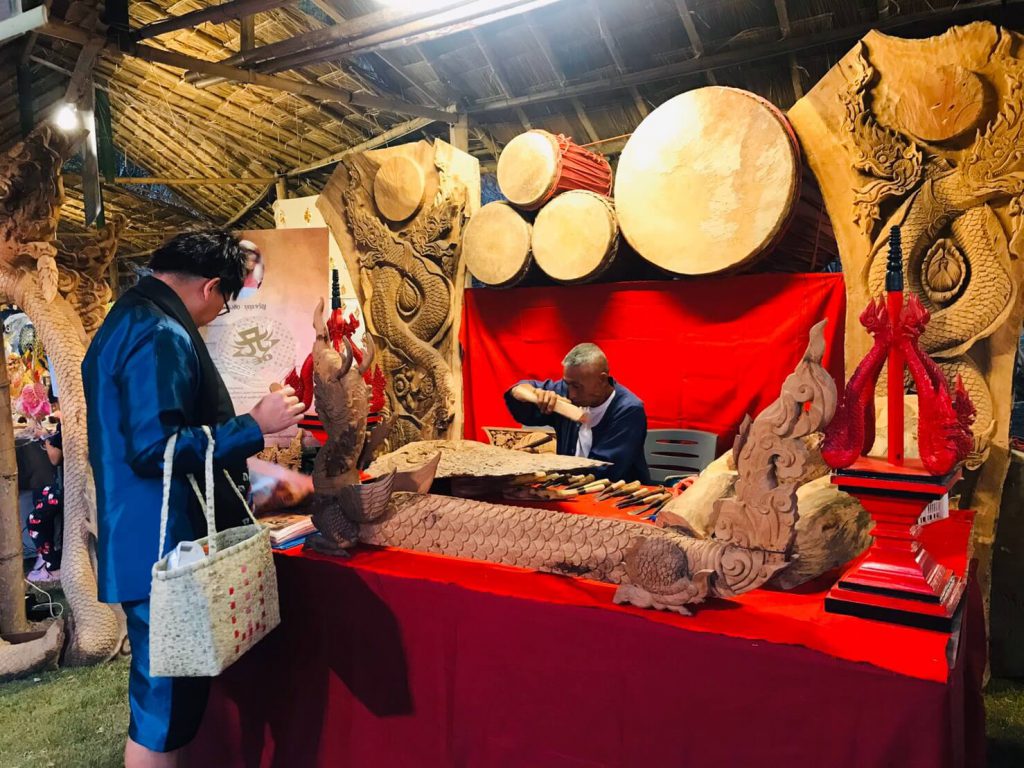 Puja Drum – an ancient drum used to signal an enemy attack during times of war, to signal victory, as well as to call attention to a news announcements, as well as a musical instrument for entertainment purposes.
Tung Kradang – Tung is a Lanna word for banner. Tung are used in Buddhist ceremonies, both auspicious and otherwise, and come in various shapes, sizes and materials depending on beliefs and rituals as well as local preferences. Tung Kradang is made from durable material such as carved wood, stucco or metal, so they have a long lifespan.
Sattaphan – This is a candlestick for paying homage to the Triple Gems in the prayer hall or the vihara (meditation hall) in the Lanna Kingdom. The name, Sattaphan, is derived from the Sattapariphan mountain range that surrounds the mythical Mount Sumeru. It is made of carved wood in a triangular gable shape or semi circle on a low table. It has seven columns on which candles are placed, representing the seven mountains surrounding Mount Sumeru. It is truly a traditional artifact that reflects the culture and faith of the Lanna Kingdom.
---