Overview
Over 30 years ago, if you had a bird's eye view over high mountain peaks in Mae Chan District, Chiang Rai Province, you would see nothing but the red earth of denuded hillsides as far as the eye could see, with only a few isolated spots of green.
 Doi Tung in the past was a land where villagers had no contact with infrastructure or agricultural know-how. Their lives were dire, and they were destined to a vicious cycle of problems that led to a dependence on illicit livelihoods—narcotic crop cultivation and trafficking for ethnic militia groups that came to their doorstep to buy the precious goods. Many fell victim to the drug trade and addiction, or even worse, sex trafficking, in the hope of a better life, but more often ending in tragic outcomes.
This scenario changed drastically with the arrival of the Princess Mother to Doi Tung on 15 January 1987. She realized that the root of the problems in the area was poverty and lack of opportunity for an alternative way of life. She therefore initiated the Doi Tung Development Project (DTDP) when she was 87 years of age, when most people felt that she should be taking it easy. However, the Princess Mother chose to continue working as she always had.
DTDP began by "cultivating people", improving the quality of life of the local communities methodically, based on the belief that if the project could help the villagers out of the vicious cycle of "Sickness, Poverty, and Ignorance", the various social issues and environmental degradation caused under the need for survival could be overcome.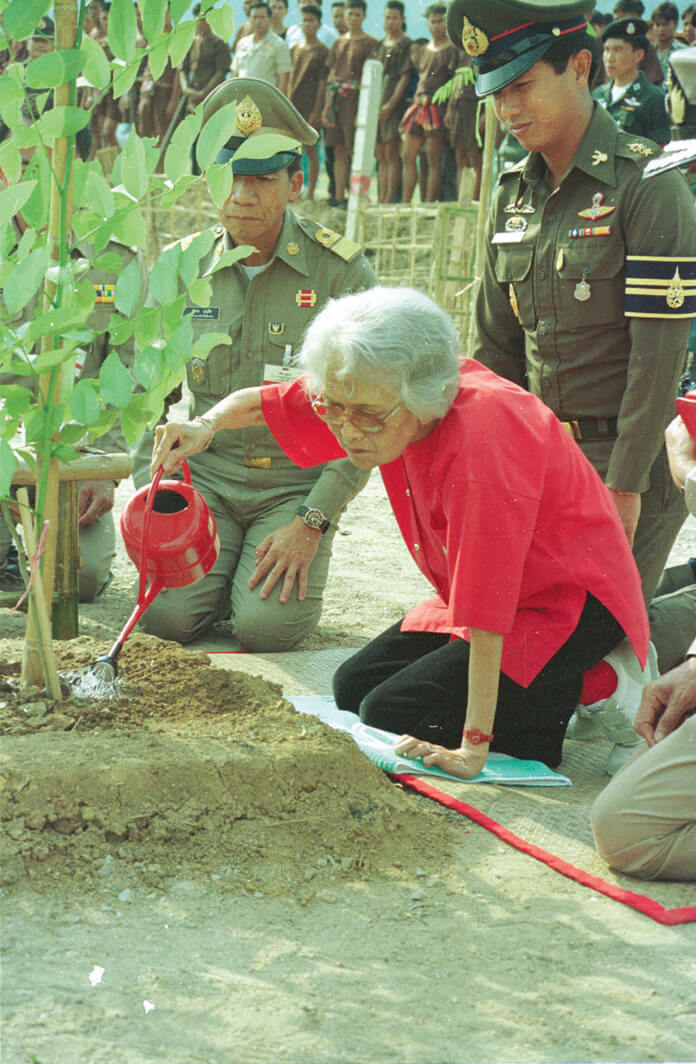 I will build my house here,
but if there is no Doi Tung Development Project,
then I will not live here.
I have wished to plant forests
for over 10 years now.
The Princess Mother
Even if we hope to see success in the blink of an eye, in reality change and development can never achieve overnight success. The work of DTDP can be divided into 3 phases:
Phase 1 : "Survival"
The first phase is "Survival" or developing the basic necessities of life – providing public amenities and healthcare to allow the communities to be free from hunger. Basic livelihood options that did not require forest encroachment as in the past were promoted. This would help the people reduce their expenses, increase their income, and reduce household debt.
The first livelihood that came hand in hand with reforestation was the cultivation of economic crops, namely coffee and macadamia. DTDP gave the villagers the right to their own coffee plants; if they tended the plants well and they yielded good crops, the villagers would also benefit. This feeling of ownership motivated them to put their effort into the crops, tending to the plants with their heart and soul. Many of them were able to become entrepreneurs, with their own flourishing coffee businesses.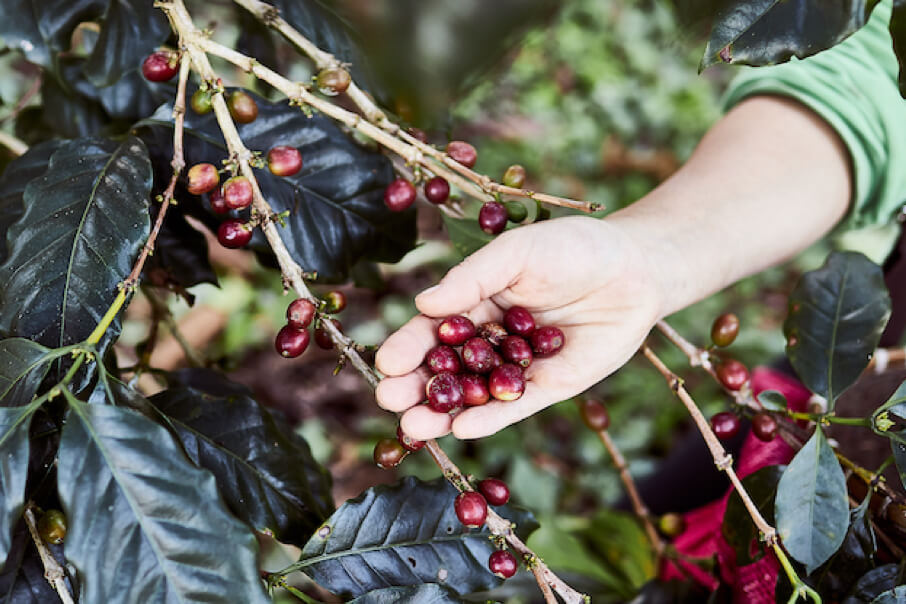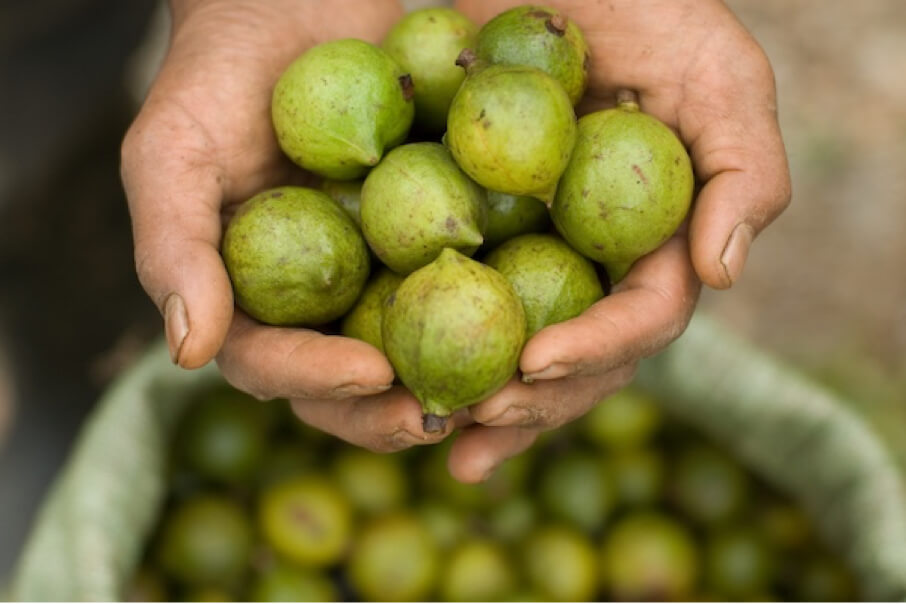 Macadamia could be processed into a variety of products that could fetch high prices. The trees were perennials, and if well-tended, could become cherished members of the family, growing with the generations.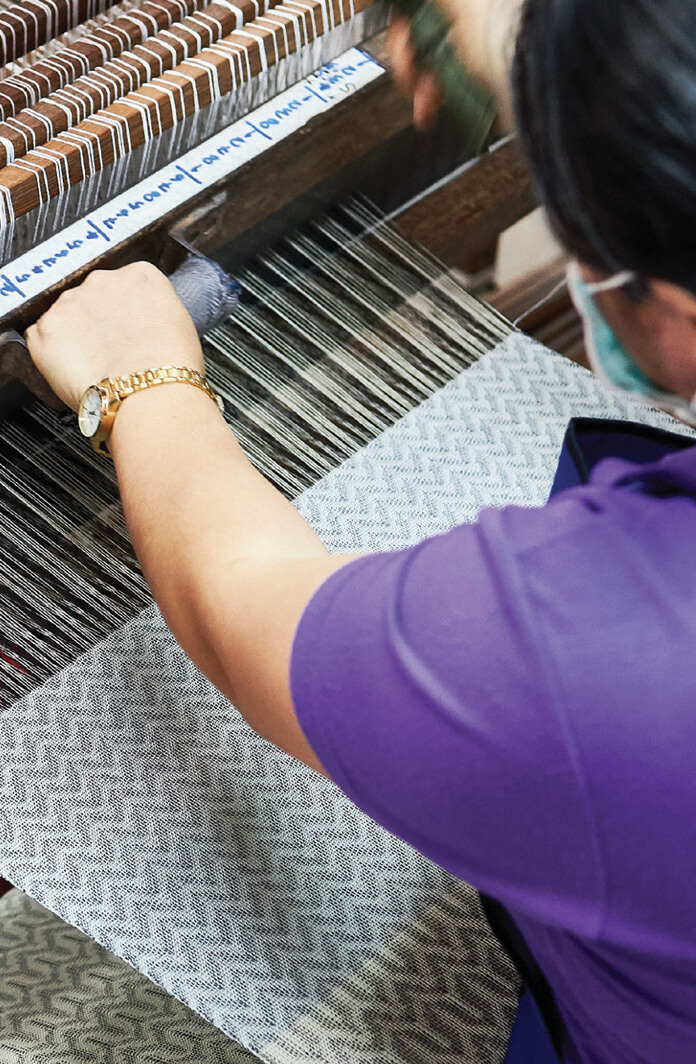 Phase 2 : "Sufficiency"
The next development phase is "Sufficiency", which targeted environmental restoration, upgrading the quality of life, providing value-added to local products, as well as promoting livelihoods suitable to the geo-social conditions and existing folk wisdom. This would allow the communities to build upon this knowledge to create a stable and sustainable income. DTDP also devised alternative livelihoods for the new generation other than working in food processing plants or handicrafts. These included plant tissue culture and tourism that provided opportunities for young people who felt a bond with their native village.
"DOITUNG" BRAND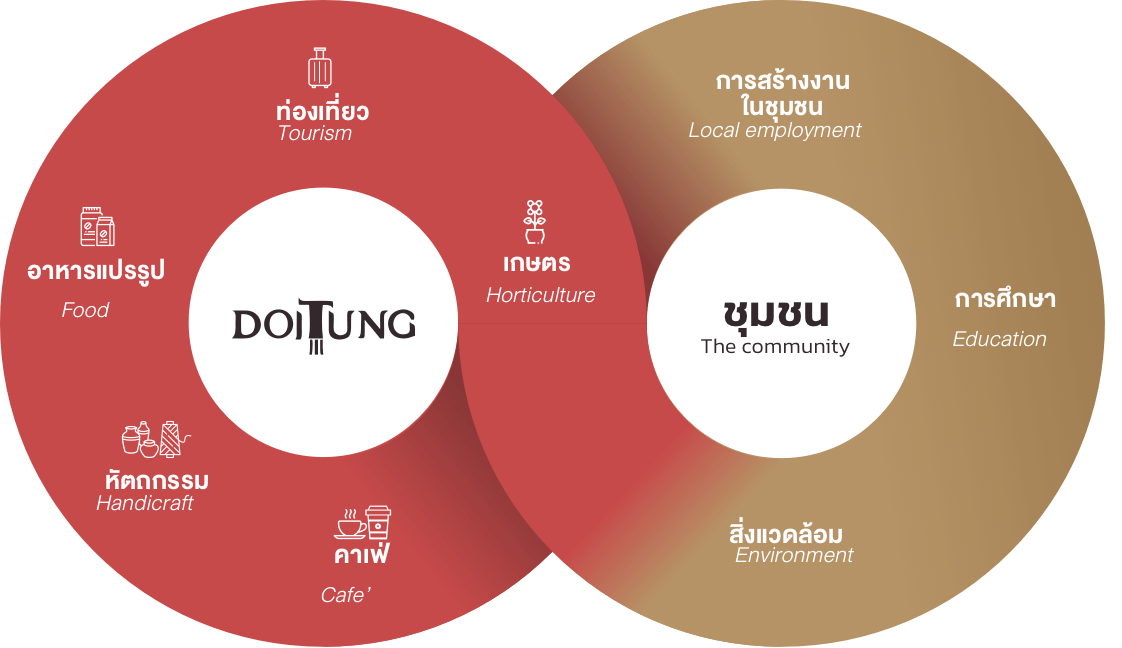 The "DoiTung" brand was later created to enable the development efforts to progress. This social enterprise comprises five business units: handicrafts, processed food, café, agriculture, and tourism. The brand has been self-sustained since 2000, and is considered a model business to help villagers attain self-sufficiency. Part of the proceeds from the DoiTung social enterprise is reverted to the villagers themselves, while another part is used to improve public health, education, and the environment on Doi Tung.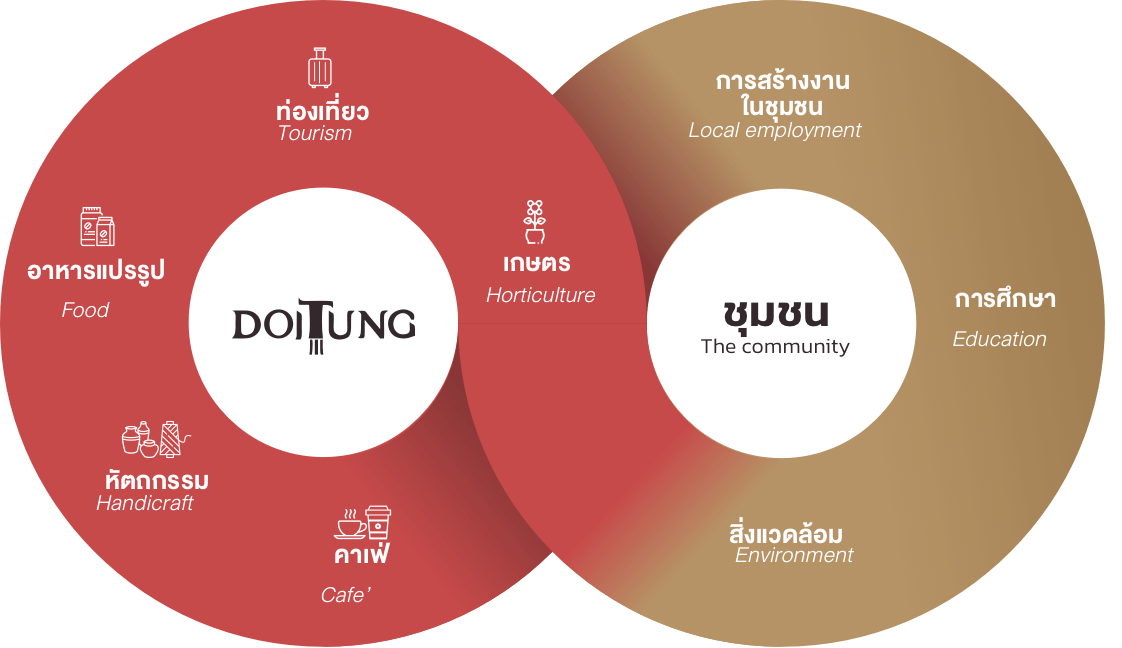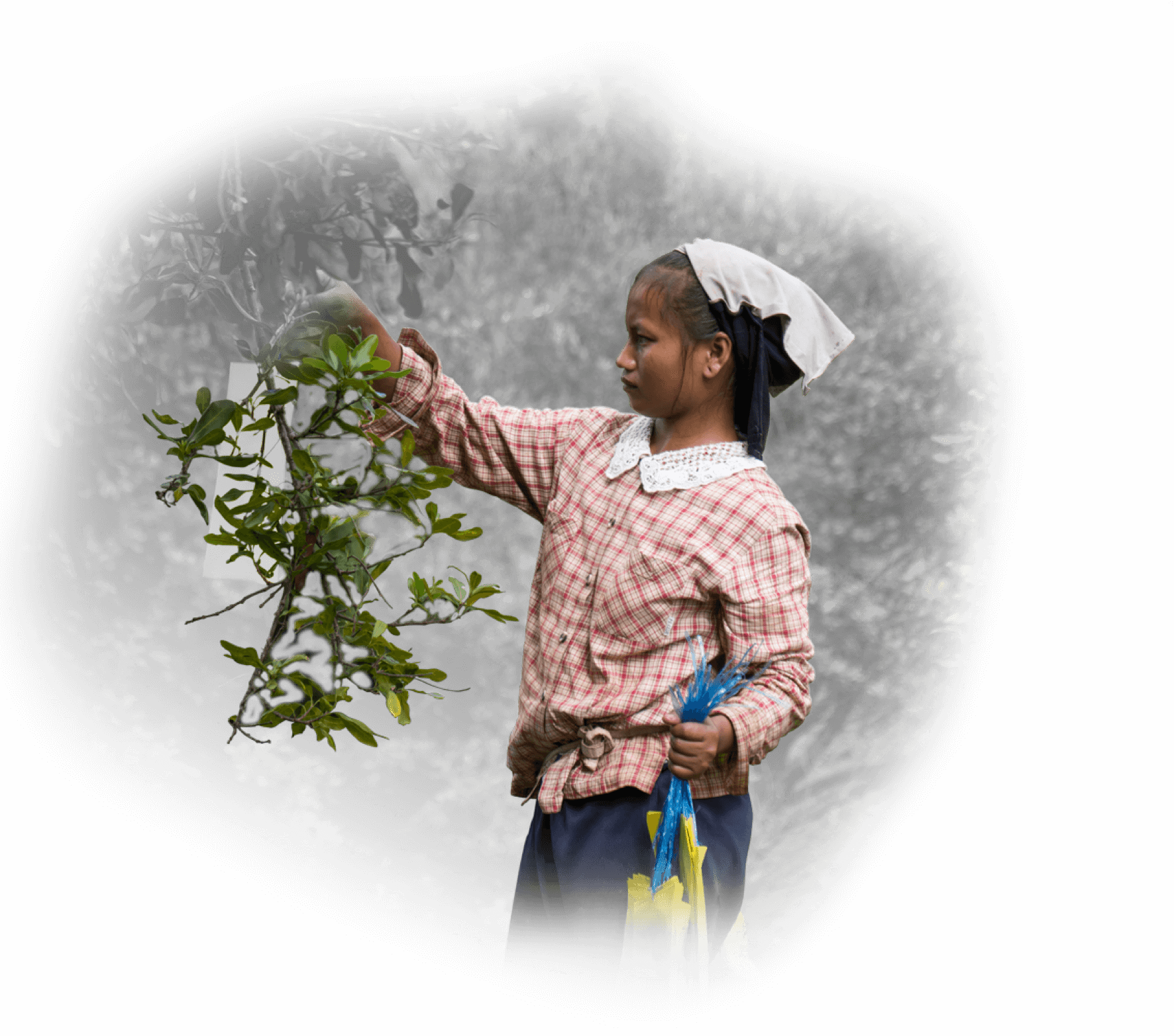 DTDP has come a long way from its origin as an Alternative Development project, and is now a Sustainable Alternative Livelihood Development project that aims to free the ethnic hill tribes from poverty and draw them away from narcotic drugs, provide capacity building in terms of skills and ideas as well as business acumen, in order to create a sustainable income. The United Nations Office on Drugs and Crime (UNODC) awarded DoiTung products a certification in recognition of its success in solving problems through peaceful and sustainable development methods.
Phase 3 : "Sustainability"
The Doi Tung residents are currently in the last significant phase of development which will lead towards "Sustainability". DTDP has put great emphasis on the education of children and youth, instilling in them a quest for lifelong learning, encouraging them to reach their full potential. The Montessori method of teaching is applied to primary school children, allowing them to learn by doing, known as Constructionism, with a multi-faceted learning process that goes all the way through to high school. This includes Task-Based Learning, Project-Based Learning, and Vocational Learning that meet real-life requirements. This will enable local children to be in tune with the fast-moving world outside, building up their immunity against external threats, empowering young leaders who will be able to take charge of their own community's development projects in the future in a sustainable manner.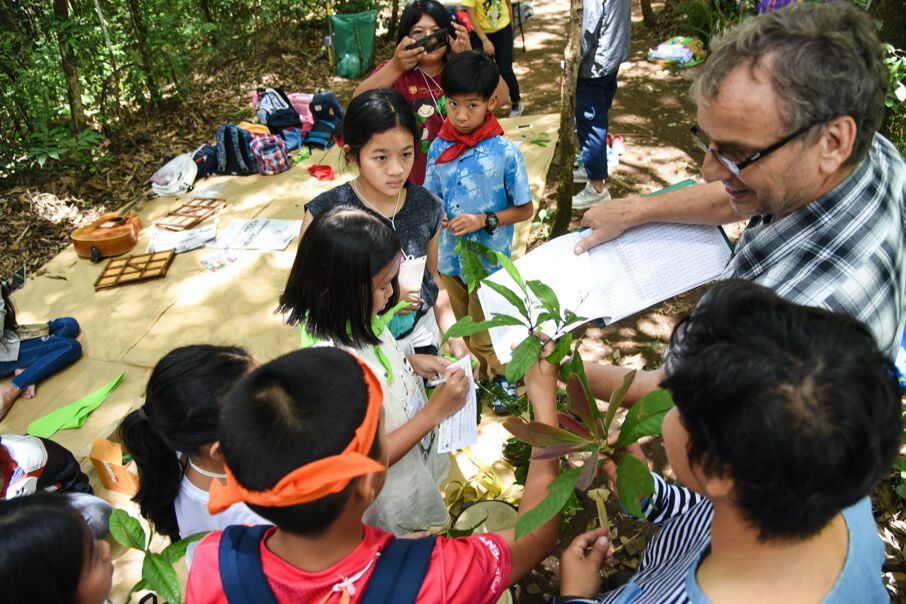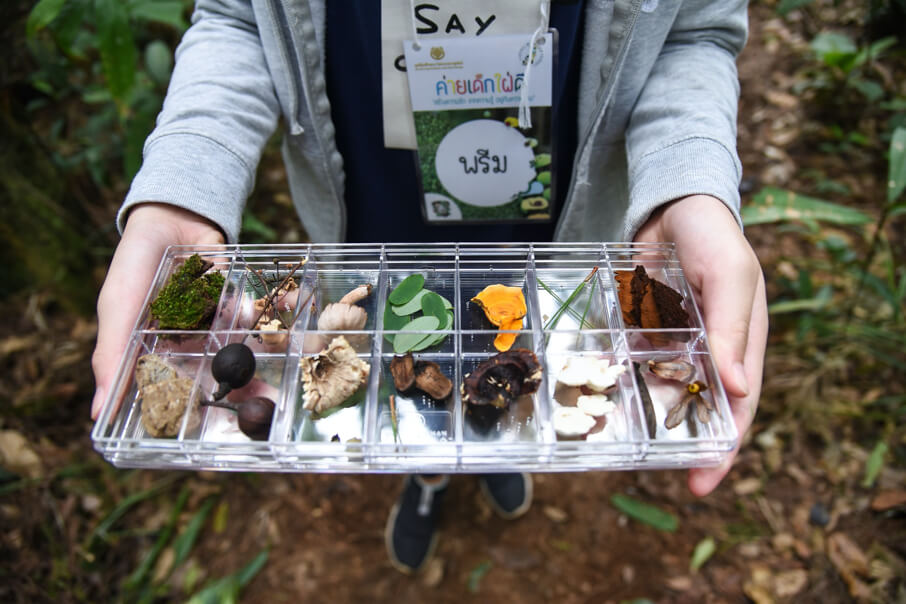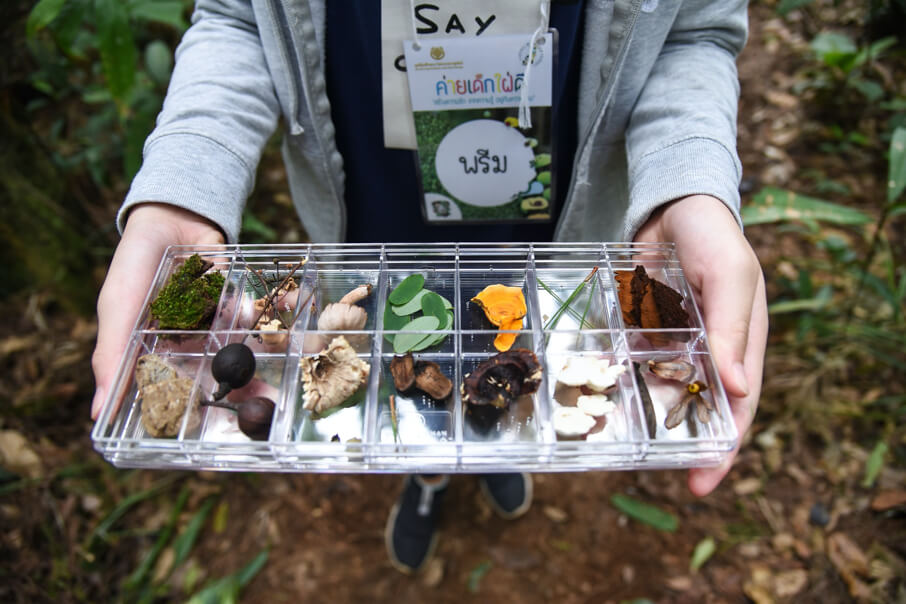 Since 2016, DTDP has placed more emphasis on Thai language lessons into the curriculum for ethnic children in the project area in line with the concern of Her Royal Highness Princess Maha Chakri Sirindhorn for the local youth, and the aim to reduce the number of those unable to read and write Thai to zero.
Today, several of these young children have completed their studies and returned to work in different capacities at DTDP, carrying on the development legacy within their communities effectively.
If you look at Doi Tung in Chiang Rai from a bird's eye view today, you would see that the seeds of inspiration sown by the Princess Mother have taken root and matured into lush green forest cover as far as the eye can see. Under the shady canopy of this forest cover is the much-improved and sustainable way of life of the local villagers.