DoiTung Brand Receives GGreen Award
In Recognition of its Products for Sustainability
DoiTung brand, under the auspices of Mae Fah Luang Foundation under Royal Patronage, not only offers handicraft products produced by ethnic communities, but also ensures that every step of the production process is environmentally-friendly. This includes handwoven cotton textiles with their unique ethnic details, and ceramic products that transform lumps of clay into fine household items. The Department of Environmental Quality Promotion, Ministry of Natural Resources and Environment, saw fit to present the G Green Production Award "Gold Level" in the Ceramics category, and "Gold Level" in the Textiles category, in recognition of DoiTung's environmentally-friendly production process.
Mae Fah Luang Foundation under Royal Patronage was established under the royal initiative of Her Royal Highness Princess Srinagarindra, the Princess Mother, to introduce social development for hill tribe villagers whose lives were lacking opportunities, starting with the basic necessities of life, and gradually moving towards social enterprise. This was to improve the quality of life through the development of both forest and communities simultaneously. The Doi Tung Development Project, together with the DoiTung brand, became the flagship project for sustainable development under the Mae Fah Luang development model, which was supplemented by the restoration of natural resources under the principle of mutual dependency between man and forest.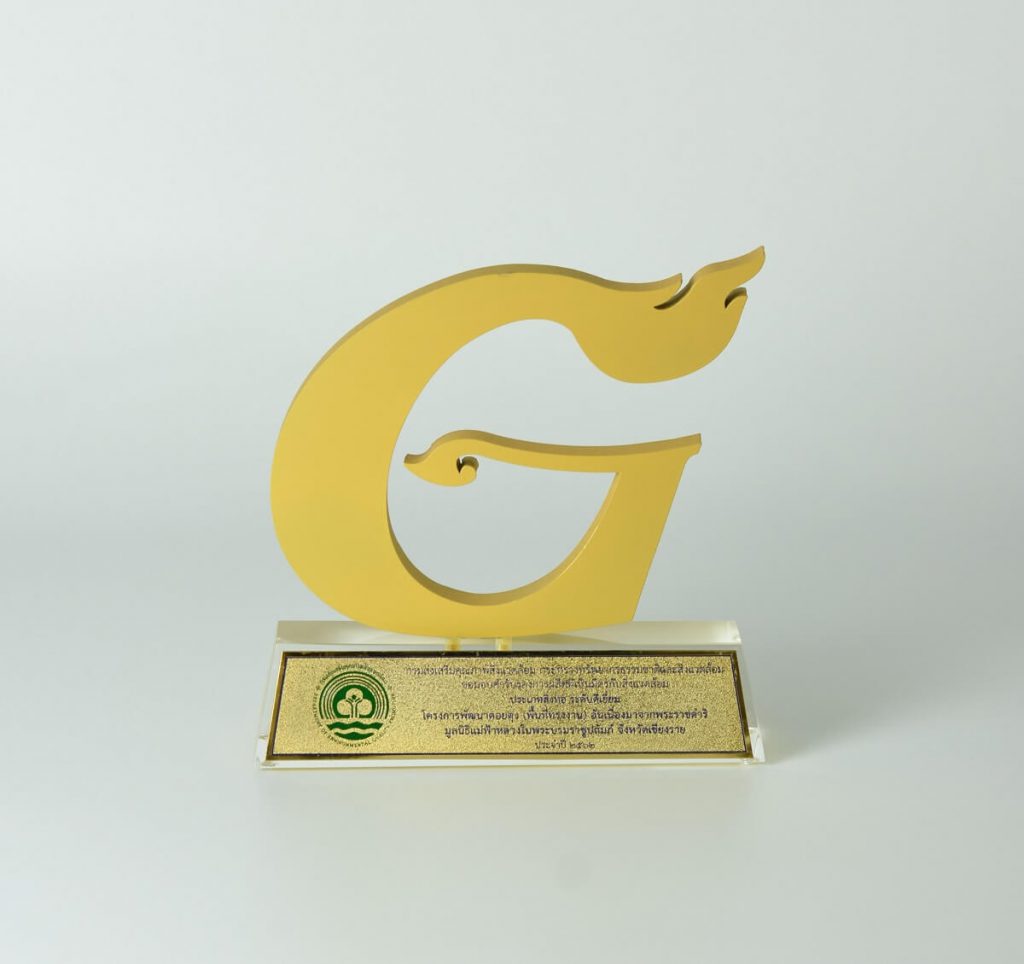 Business development that goes hand in hand with environmental conservation in the manufacturing process are the factors that led to the G Green Production Award. The DoiTung textile factory selects as its raw material Better Cotton, or cotton that is grown using sustainable water practices. The cotton yarn is then dyed with natural colors from Indigofera tinctoria (indigo), flame-of-the-forest, onion, coffee or Baphicacanthus cusia Brem. (also indigo). These produce different colors depending on seasons as well, creating a unique look. The yarns are then woven on traditional looms by elder members of the community. Scraps of cloth left over from the sewing process are made into small items such as key chains, or used to decorate other products. Scraps that are too small to be used and lint are then burned with macadamia husks as biofuel to heat water used in the boiling, bleaching or dyeing processes, reducing the dependency on cooking gas by half. Grey water from the dyeing process then goes into the water treatment system under the principle "nature helps nature", using aquatic plants to absorb the toxic waste and replenish oxygen in the water, which is then used to water the plants. As a result, there is Zero Waste in this manufacturing process. As for packaging and delivery to the consumer, products are sealed in ziplock bags, then wrapped in paper and placed in paper bags to reduce the use of plastic bags. Used ziplock bags are then returned to the weaving factory for recycling.
Even the ceramic factory is careful to address environmental concerns at every stage of production, from the selection of different clays that are mixed and shaped or poured into a mould to create various vessels, the heating or firing process in kilns, and the glazing with mineral glazes that create different colors when fired at 1,250 degrees celcius. Although ceramics cannot be recycled like other materials, Doi Tung has devised ways to grind the ceramic discards into a powder, then mixed with soil in a suitable proportion that will allow the clay to be formed into new items, or used in a mixture to pave road surfaces instead of other resources. The mould for ceramic items that require dry heating before shaping is heated with biofuel from macadamia husks rather than cooking gas to heat the water that heats the air. This has been achieved through trial and error over time, but has finally allowed the manufacturing process to almost totally replace the use of cooking gas. These methods were developed not only by the management and designers, but also by the villagers themselves who are personally vested and keenly aware of the inherent issues.
Naturally, manufacturing processes that are environmentally-friendly require several additional steps. In the future, Mae Fah Luang Foundation and DoiTung brand plan to create awareness on the need to embark on these additional steps, inconvenient though they may be, in order to protect the environment, through the hashtag #Inconvenientisnecessary. Keep abreast of our social development work that enables man and nature to coexist in a sustainable manner at our website: www.maefahluang.org.
---