Image: Mae Fah Luang Foundation
Article by
M.L. Dispanadda Diskul, Chief Executive Officer
and Supatchaya Techachuchucherd, Environmental Project Manager
Mae Fah Luang Foundation under Royal Patronage
---
Climate change, poverty, and agricultural land conversion are intrinsically linked, and forest protection is vital to prevent biodiversity loss.
Between 2001 and 2019, Southeast Asia suffered forest loss of 610,000 km2 – an area greater than Thailand.
The Mae Fa Luang Foundation's project covers 49 communities across Thailand and protects 160,000 hectares of forest against wildfires.
---
Agricultural land conversion is a major threat to forest loss and places severe pressure on climate and biodiversity. In Southeast Asia, we witnessed forest loss of 610,000 km2 – an area greater than Thailand – between 2001 and 2019. So too, increasing temperatures, droughts, and unpredicted rainfalls lead to lower crop yield, pushing farmers to expand their agricultural land for survival. Climate change could lead to a loss of 4% of global annual economic output by 2050.
Since 2020, Nature-based Solutions (NbS) and actions to protect, sustainably manage, or restore natural ecosystems in Thailand have been in the spotlight for the various co-benefits they bring. Applying NbS to stop agriculture land conversion requires multi-stakeholders' engagement such as government, technical experts and academia in forestry, private sector, and local communities. Yet, due to fragmented regulation and a lack of real-doers on the ground, bringing them to the cooperation table is a giant obstacle.
Thailand's Community Forest Model – A thriving forest means a thriving community
To convert land use for agricultural production into forest protection, stable sources of income should be in place for the community. A carbon credit scheme could be a tool to engage communities in a sustainable forest protection policy. The Carbon Credit from Community Forests for Sustainability project by the Mae Fah Luang Foundation and its partners illustrated this possibility.
The undertaking bridges cooperation from government entities to authorize land use for the REDD+ project, private sectors to fund the project, and the community to spearhead the implementation. The initiative supports communities in validating and verifying carbon credit and earning income from selling carbon credit. In lieu of only buying the credit, private donors support funding for livelihood development activities and forest management, providing additional income, and incubating local business initiatives.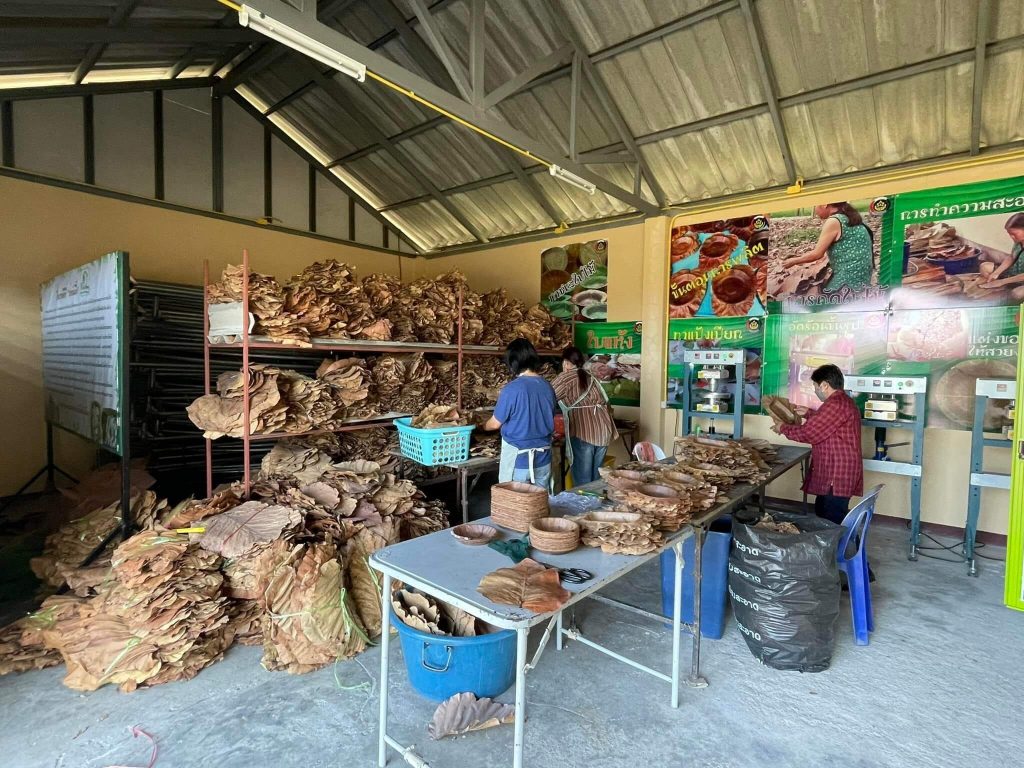 For example, in its initial phase in 2020, the 157-hectare Doi Saket community forest complex received a total funding of $294,900. Ton Phueng village is one of the Doi Saket complexes that use a livelihood development fund to establish a local enterprise producing eco-friendly packaging from dry leaves, effectively reducing wildfire fuels. This business generates an average of $8,500 annually, is partaken by community members of all ages, and promotes Ton Phueng village's Social Return on Investment (SROI), which is currently at 1.26.
The forest management fund also helped establish fire break and patrolling, which decreased wildfire burn areas from 742 to 368 hectares between 2020 and 2021. This year, fires only covered 196 hectares of land, marking a dramatic reduction of 17.24% after two years of operation.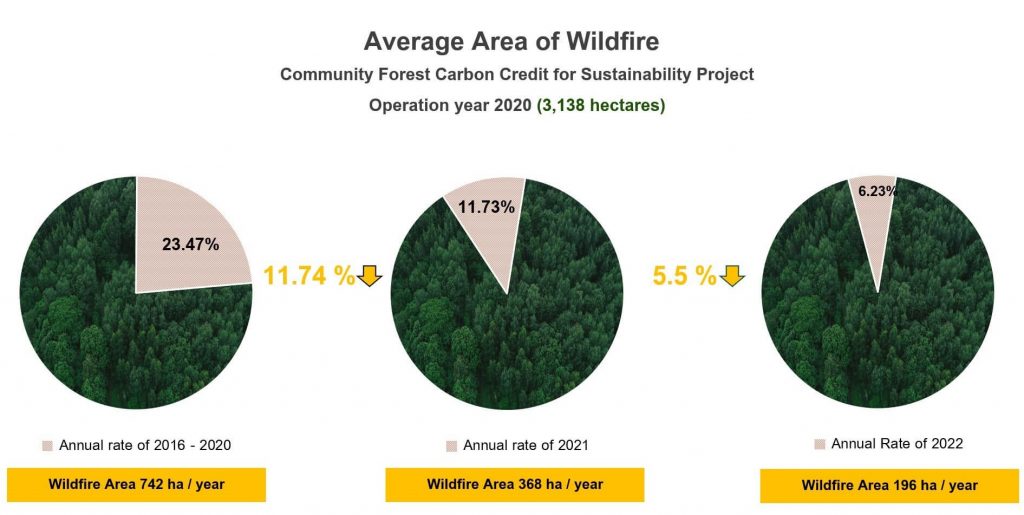 The Mae Fa Luang project covers 49 communities and more than 8,000 hectares nationwide. The Foundation and its partners aim to scale its forest protection – covering 160,000 hectares of forest – as a carbon sink, to engage over 1,100 communities and sequester an estimated 300,000-500,000 tons of carbon dioxide annually.
Biodiversity loss: A critical point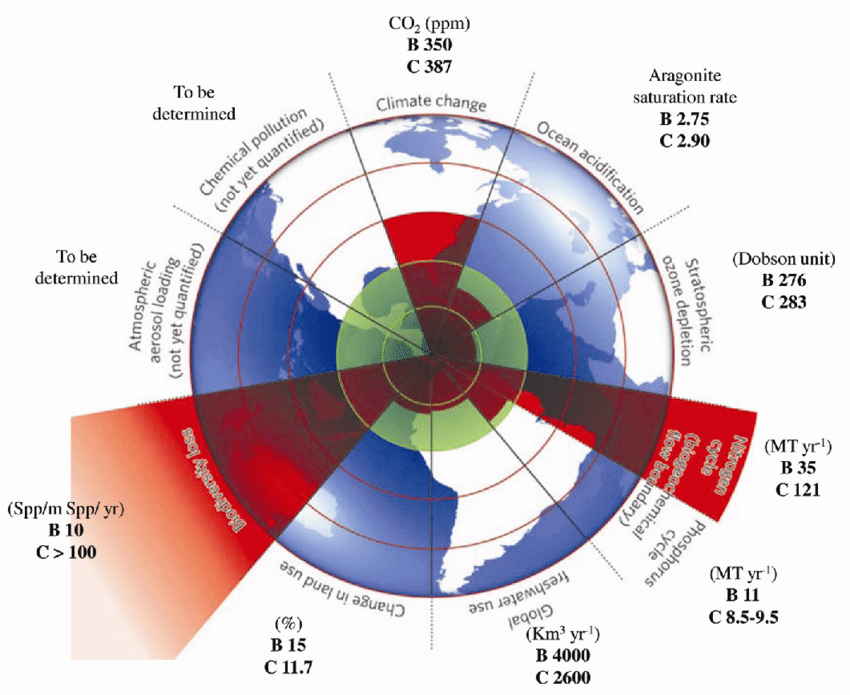 Compared to reforestation or the renewable energy sector, forest protection doesn't generate much carbon credit; however, protecting forests provides biodiversity co-benefits. Biodiversity is essential to support all life on Earth. Without a wide range of animals, plants, and microorganisms, we cannot have healthy ecosystems to provide us with the air we breathe and the food we eat.
Planetary Boundaries indicate that biodiversity loss is far more severe than climate change, while land use change is the primary cause of biodiversity loss. The right incentive for people to stop encroaching on forests and extending agricultural land is urgent. Although the afforestation project is increasing the green area significantly, the REDD+ project could protect the existing forests and our remaining biodiversity. Once these are lost, it could take an average of 120 years to recover.
Biodiversity prevails through carbon credit
The lack of global solidarity towards the climate ambition of 1.5°C affects not only humans' way of life and our future but the whole biosphere. Conserving nature and creating more income for people who live in forests are seen as solutions in the opposite direction. With sound project planning and implementation, awareness from all stakeholders, and people-centric activity, carbon credit could be an effective tool to protect nature while developing the community's livelihood. Through this endeavour, biodiversity might prevail with us.
---
This article is part of the World Economic Forum 2023 annual meeting held from 16-20 January 2023 in Davos, Switzerland under the theme "Cooperation in a Fragmented World". With an important agenda on how to deal with the problem of global turbulence. Through economic restructuring that is linked to the burning of non-renewable fossil fuels for clean, sustainable energy. Which is a continuation of the 2022 conference (uploaded on www.weforum.org which is the official website of the World Economic Forum : https://bit.ly/3WtgYqL)